Apple Mobility Partner
Physitrack
Physitrack provides healthcare professionals with tools for home exercise provision, and gives patients a user-friendly platform that makes the rehabilitation process clear and transparent, and promotes recovery. Since we became Physitrack's long term development partner, we have worked on complex and evolving solutions across a range of platforms. In that time, Physitrack has raised over $3 million in investment and partnered with Apple and IBM, and it is now preparing for IPO in 2018.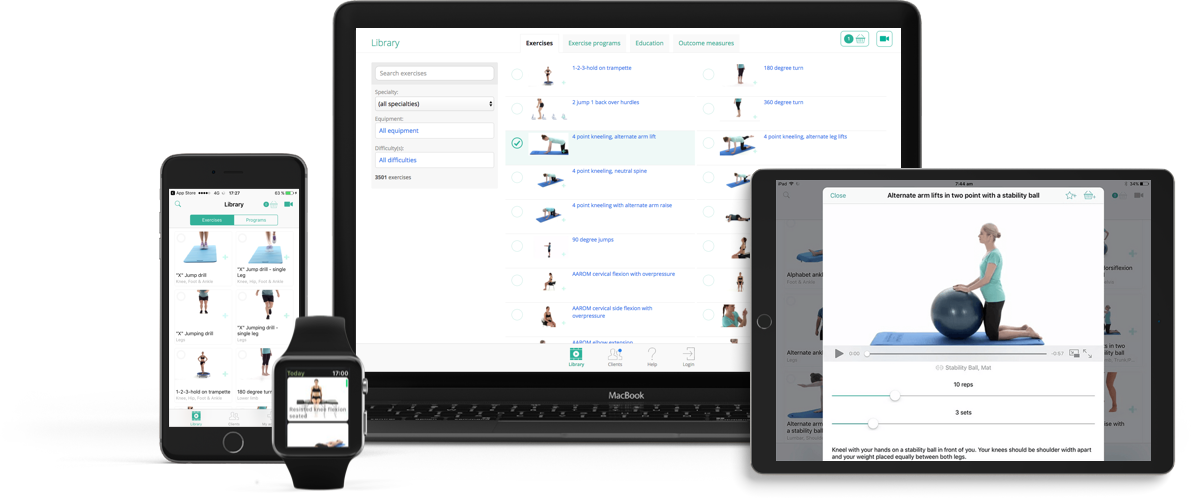 Physitrack AI

|

Physitrack API 2.0
2018 starts strong with multiple new signed clinics and the development of Physitrack AI - an automated patient onboarding system. We also successfully delivered brand new Physitrack API 2.0. The new API ensures smooth 3rd parties integration into Physitrack ecosystem.
Apple Mobility Partner

|

Physitrack 4.0 Telehealth
With new clinics joining Physitrack every week, it is growing like never before and is now officially part of the Apple Mobility Partner Program. Currently, our main responsibility is to implement new features such as real-time telemedicine across all Physitrack and PhysiApp platforms – web, iOS and Android. We are also focused more on distributing the system across multiple countries.
Physitrack 3.0

|

PhysiApp iOS & Android
Back in 2015, Physitrack and Apple started co-designing a mobile applications for both medical professionals and patients. With a third party company struggling to deliver on this project, co-founder and CTO of Physitrack Nathan Skwortsow asked us to help. In 2016 we successfully launched the native iOS Physitrack application, and the iOS (including Apple Watch) and Android PhysiApp applications, and started receiving feedback directly from Apple's product teams. From this point onwards we have been responsible for the entire Physitrack ecosystem.
Apple and IBM Partnership

|

$1.8M Investment
The feedback collected from users led to Physitrack's first major pivot. This resulted in Physitrack 2.0, which we launched in 2015 together with PhysiApp – a separate dedicated application for patients. Physitrack 2.0 gained serious traction with healthcare institutions, becoming an exclusive healthcare partner of Apple and IBM. The huge progress in 2015 led to a further $1.8 million.
Physitrack 2.0

|

$1.6M Investment
The first version of Physitrack was a completely new product with fast changing requirements so the Ruby on Rails web framework was a great fit. We launched Physitrack smoothly in early 2014, and the product team started to gather valuable feedback. The successfully launched product helped Physitrack to raise $1.65 million in first round investment from Crown Ocean Capital.
Physitrack 1.0
In 2013, with the third-party developers he was using struggling, Nathan Skwortsow brought us on board as a long-term development partner for Physitrack. We started developing the first version of the Physitrack solution, and growing the development team.
For more than 5 years now, we've had the pleasure of working intensely and closely with NECOLT's engineering team who has been building and operating the well-engineered applications that Physitrack is made of, using well though-out engineering processes that rival the best Silicon Valley firms.

NECOLT was the only software company that we've worked with that was able to consistently deliver the high quality software our ever-evolving and long-term product view demands.

Partnering with NECOLT instead of building an in-house development team was an important strategic decision that enabled us to fully focus on the product-market fit of Physitrack, with a focus of delivering maximum value to our customers, from the early days all the way through our upcoming IPO.
Nathan Skwortsow
CO-FOUNDER AND CTO OF PHYSITRACK